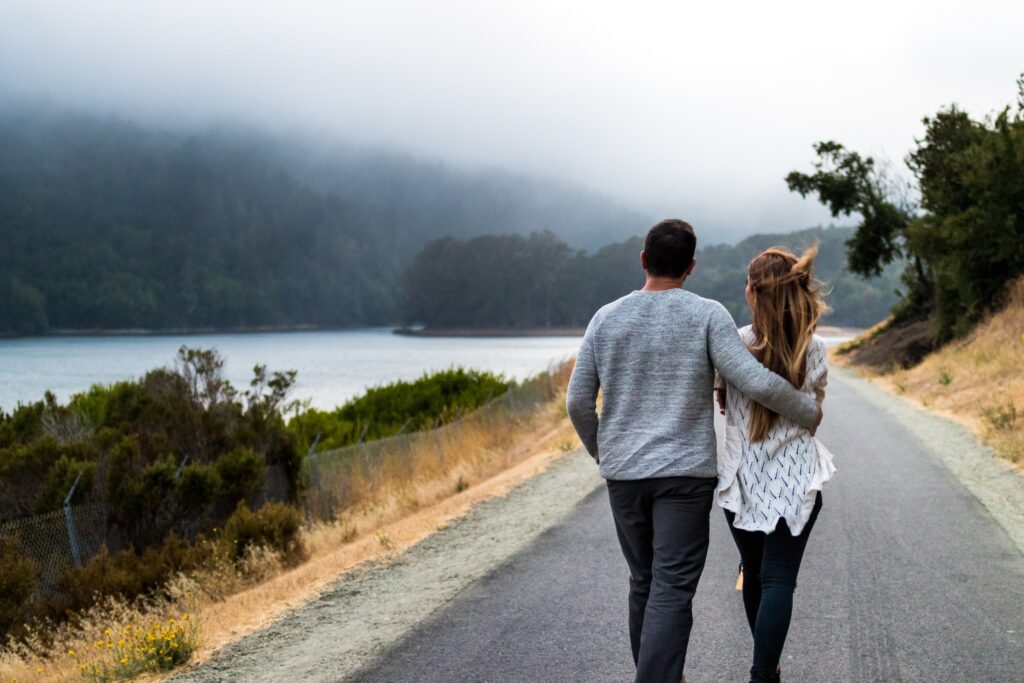 "A successful marriage requires falling in love many times, always with the same person." ~Mignon McLoughlin
Next week is Valentine's Day–the day of love. Chocolates, roses, lingerie, jewelry, romantic candlelit dinners…you will see it all across your social media platforms. If you and your partner are in the trenches or in a season of rebuilding your relationship, or if life is just extremely busy, try not to get discouraged. It may seem like "everyone else" is madly in love and that their relationship is perfect, full of romance and quality time. Newsflash: This is untrue. The fact is that every couple is working on their relationship; every couple can be better about prioritizing each other in their relationship. You (or your partner) can feel it when other things seem to come before your relationship. Which is why I wish to share a simple suggestion you and your partner can do to prioritize your relationship today, regardless of how things are currently going: Couples walks!
I have written at length about the benefits of exercising. Exercising is a great pick-me-up as well and extremely beneficial to your mental health. Moving your body, sweating, and pushing yourself helps to release stress and endorphins, increase your energy, and improve your mood. When you improve your own mental state, the benefits will spill over into your relationships. Which is why I am now recommending my client couples go on walks together. Going on walks can help each partner feel seen, helps each of you connect and have adult time, and you get some steps in too!
Going on walks as a couple is a simple exercise I invite my couples to participate in early on in therapy. The following are the guidelines I share with them:
Length: At least 20 minutes. This gives time for stresses of the house to fall into the background so that you can focus on the relationship at your side.
Frequency: Twice a week. You have a lot on your plate and this is not meant to crowd it more; it is meant to be something that gives back to you and your relationship.
Goals: None. Go with no expectations for the walk. Maybe you will walk in silence; maybe your partner will share something they are struggling with; maybe you will share a personally embarrassing moment; maybe you will talk about a child you are concerned about; maybe you will share your latest Amazon find; maybe family travel plans will be made– do not make plans about what you will discuss, just let it come naturally.
Limit distractions: Leave your phones at home, or at least on silent. Turn off your watch notifications. Focus on the person besides you, rather than the distractions of your life.
It is simple, yet this everyday activity is packed with many benefits. Walking is a repetitive, simple movement of your feet, shuffling from left to right, and uses both sides of your body (also known as bilateral movement). This causes a relaxation effect which leads to helping you feel less stressed, less "stuck" on whatever was bothering you, and helps distance you from your problems/worries by making them smaller/feel further away. Not to mention that being outside walking in nature can be healing; if you live in an area with inclement weather, do not let that stop you. Find somewhere indoors you can walk, such as a mall, or an indoor track. The key is that you follow my four simple suggestions and get out on walks together. In my 17 years of working with couples, I have yet to have a couple NOT have a pleasant or connecting experience when incorporating walks into their relationship.
Use this month, a month that is often dedicated to relationships, to try something new! Make time to walk with your partner. Make him or her a priority and schedule these walks in before other things. I can assure you that it will send a valuable message and mean a lot to your partner. As you get out together two times a week for 20 minutes, you will strengthen your relationship and grow closer together as a couple. At the risk of sounding cheesy, I am here walking the journey beside you, if you need it!
Happy Valentine's Day!
Melissa Cluff is a Licensed Marriage and Family Therapist based in North Texas, providing face-to-face and telehealth therapy options to clients in Texas.
References: