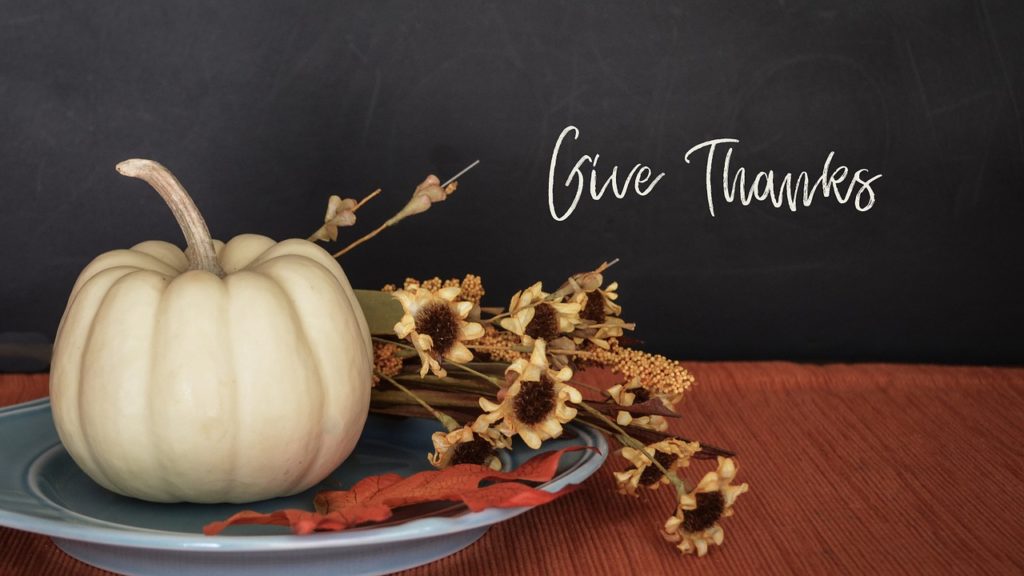 It's easy to feel grateful when all is going well, but when your computer crashes, your car needs new brakes, or your to-do list is piled sky high, it is hard to notice what is going well. Ironically, these difficult times are exactly when we can practice gratitude and see the greatest results. Of all the personal attributes one can develop, gratitude is most strongly associated with mental health.
Simply put, gratitude is the emotion that relates to our ability to feel and express thankfulness and appreciation. November, and more particularly Thanksgiving, is when we tend to focus on gratitude, but the positive effects that accompany being grateful can inspire us to practice gratitude all twelve months of the year. Traditionally, the study of this emotion has been relegated to the fields of theology and philosophy, but in 2007, Robert Emmons, professor of psychology at the University of California, Davis, began his research and quickly became the world's leading scientific expert on gratitude. He found scientific proof that when people regularly work on cultivating gratitude, they are benefited psychologically, physically, and socially. Emmons says, "I've concluded that gratitude is one of the few attitudes that can measurably change lives."
Benefits of Gratitude
The benefits of gratitude are far-reaching, and affects us physically, emotionally, and socially. Expressing our gratitude enables us to be happier and more optimistic, improves emotional and academic intelligence, and will heighten energy levels. It will strengthen connection in times of crises or loss, and will decrease levels of stress, anxiety, depression, and headaches. Being grateful boosts self-esteem, improves self-care, expands our ability to forgive, and can heighten spirituality. Surprisingly enough, gratitude also strengthens the heart and immune system, and is credited for decreased blood pressure.
Ways to Cultivate Gratitude
Cultivating gratitude is a personal practice; you may find what works for someone else does not work for you. One of the most powerful ways to develop and practice gratitude, and my personal favorite, is to keep a gratitude journal. The premise is to write about what you have done well each day (got up on time, ate a delicious lunch, connected with a co-worker, stayed patient in traffic, etc). This is a slight twist on simply writing something you are grateful for because it requires you to look at what YOU DID that day. It is a more active practice, rather than the passive practice of naming things or people in your life that you may or may not have come into contact with that day. The important thing is not the number of items on your list, but rather your consistency in writing in the journal.
Here are 10 more easy ideas you can implement into your daily life and quickly see the fortifying effects of being grateful:
Take a few deep breaths at the start of your day to be grounded, present, mindful, in order to notice the good all around you.
Make a ritual of 2-5 minute "gratitude meditations" (this is standard meditation but with the sole purpose of achieving greater levels of gratitude).
Notice and linger on thoughts of positive moments from the day.
Say 'thank you' often–particularly to those who serve you!
Write a letter of thanks to someone who has made a difference in your life and give it to them in person if possible.
Express gratitude at meals alone or with loved ones.
Start a gratitude journal where you write down something you love/appreciate/admire about your partner daily (hint, hint, this makes a great birthday or Christmas present!).
Make a list of specific things you appreciate about yourself (noticing your strengths is not boasting or prideful, it is empowering and uplifting!)
Practice not gossiping, complaining or judging others for a day.
Set limits on your social media intake in order to be more present in your own life.
I encourage you to start exercising gratitude today! We all have bad days, but instead of focusing on the negative aspects of those days, let's try shifting the focus and think of the things we can be thankful for during that bad day. Make practicing gratitude a regular habit and you will see a change in how you view your day, week, month and year!  And, as always, if you need help getting through those tough times, contact me today and I would be happy to set up a session with you.
Melissa Cluff is a licensed marriage and family therapist based in Lewisville, Texas, personally seeing clients in the North Dallas area.
Resources: