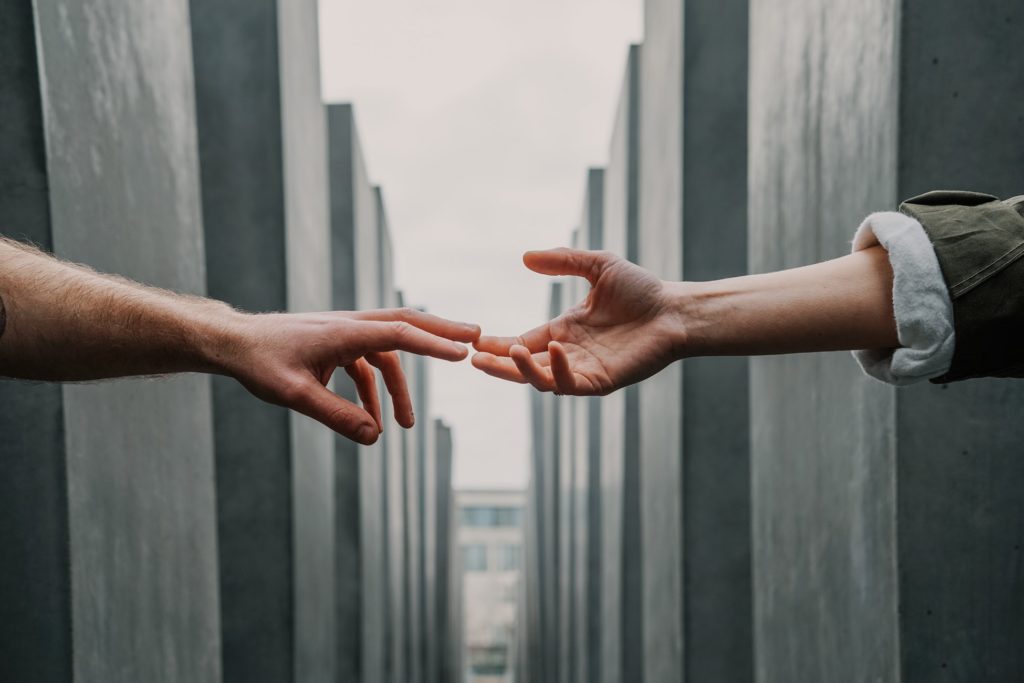 "Connecting with others is rewarding; it makes us feel like we're not alone in the world."
~ Jonah Berger

My friend recently told me that when quarantine started, she found herself checking her phone more than she ever had before. She thought about it for a moment and realized that she was feeling lonely and was craving connection with others. She decided to find distancing-appropriate ways to be in touch with her people, and has been doing much better in quarantine ever since.

Have you found yourself craving connection during quarantine, or other times in your life? What ways have you been using to connect with others? I have several quarantine-safe suggestions for you:

Pick up the phone. Call your mother or your friend or family member. There are few things that fill the void of human interaction quite like having a real-time conversation.
Let them know you are thinking of them! Send that text. Shoot off that email. I cannot tell you how many times a day someone pops into my head and I wonder how they are doing. I want to be better about letting them know they are on my mind! It does not take long to send a text or email, but if you are in the middle of work or something you cannot pause (like when I am in a session), simply make a note of it or add it to your to-do list. Then you will be sure not to forget about it!
Use your socials to be real. I am not one to put my life on social media platforms like Facebook or Instagram, but I have been one to find out about someone else's life because they were vulnerable and honest. And I appreciate those brave souls who post real life–who does not connect with that?! If you are struggling, reach out. Ask for help. Isolation is hard! Or, if you come across a real, raw post that you can relate to, comment and let that person know he/she is not alone. We have amazing technology that can help us connect with our friends and family near and far, but we need to use it authentically in order for it to render the desired connection!
FaceTime/Google Hangouts/Zoom. I know several Grammas are surviving off of FaceTime these days! These video call services make it easy to see the people you care about and is a great stand-in for face-to-face interaction. My group of friends organized a FaceTime call to wish one of the girls a happy birthday, and some of my neighbors have been using Zoom to exercise together during quarantine!
Marco Polo. This app is extremely useful for larger groups or busy friends and family members who find it difficult to coordinate a time for a live phone call or facetime. You are able to record video messages and watch/reply at your convenience.
Snail mail! You may find this suggestion to be slightly outdated, but hear me out. How many times have you gone to the mailbox only to find junk mail and bills? How would you feel to find a nice note addressed to you from someone who was thinking of you? I have been the recipient of some of these as of late, and it has inspired me to pass on the favor for others! I promise, a letter a day will keep the loneliness monsters away!
Distanced walk. I am close with one of my neighbors. So on sunny days, we both go on walks outside together. We never touch; in fact, we are never less than four feet apart (she walks on the sidewalk, I stay by the gutter). It has been a great way for me to connect with the outside world and feel like a human again!
Coordinated, over-the-fence chat. I happen to live quite close to our neighborhood mailboxes. Sometimes I am outside when a neighbor swings by for their mail, and we chat over the fence while I stand on some bricks. Though it is not the most stable means of communication (literally), it has been great to briefly connect with the people I used to see regularly.
As I said before, none of these ideas are groundbreaking. None of them require great amounts of time, effort, or money. Yet each suggestion will enable you to connect meaningfully with the people you care about in your life. Remember that connection is a universal human need; you are wired to have relationships with people. That is what is going to carry you through these crazy times!

I have adapted to the times and now offer online sessions. Please do not hesitate to sign up online or contact me with any questions you may have. I am here for you!

Melissa Cluff is a Licensed Marriage and Family Therapist based in North Texas, providing face-to-face and telehealth therapy options to clients in Texas.

References: