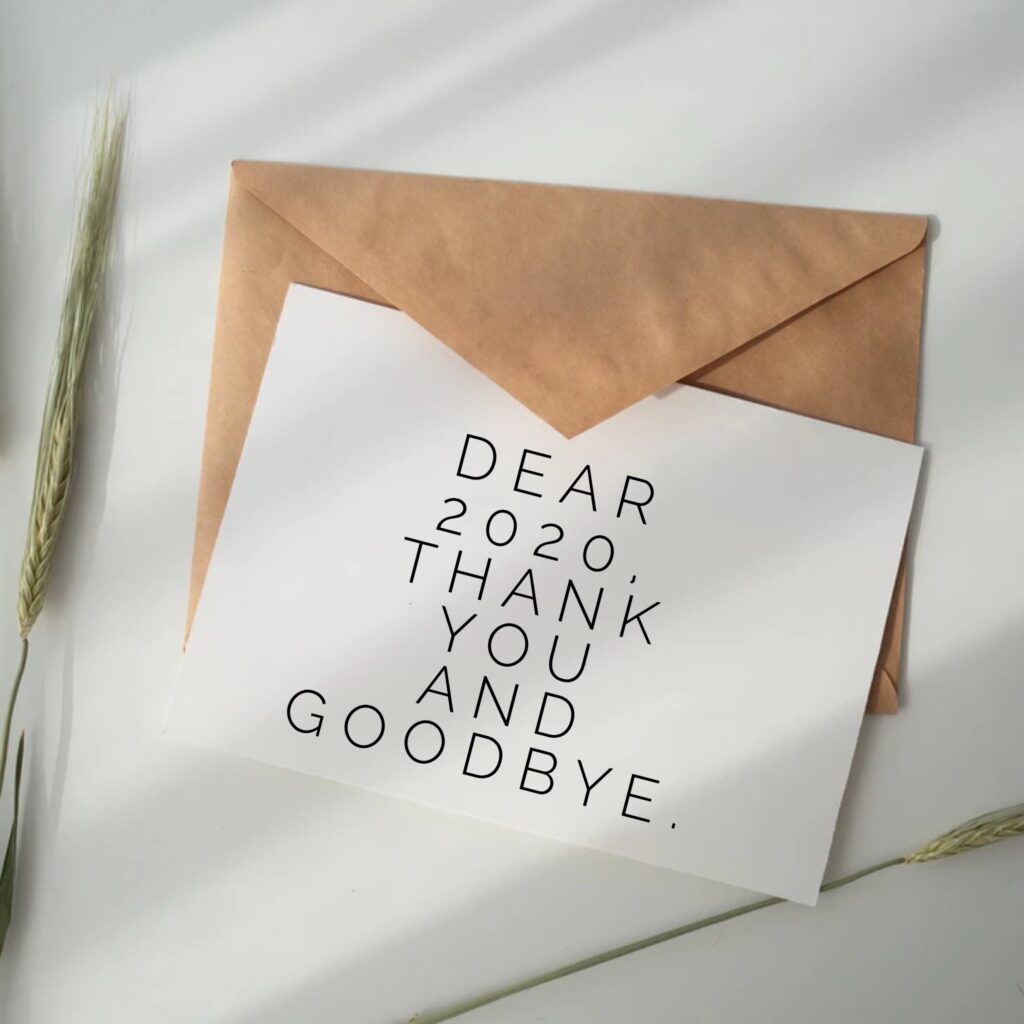 Dear 2020,
Thank you and goodbye. You certainly were an unusual year! It feels a bit like the world was a snow globe, and was thoroughly shaken up. Now that 2021 is starting, we can tell you what we really thought of you. 
At the beginning of March, I started participating in a women's book club discussing the book, "The Best Yes: Making Wise Decisions in the Midst of Endless Demands" by Lisa TerKeurst. The premise of the book is learning to say yes to the things that are truly important to you, and figuring out how to let go of the rest.
I remember thinking to myself, "How can I decide? Everything seems important."
And then a few weeks later, everything changed. It seemed that the joke was on me.
So thank you, 2020. Without the worldwide pandemic and shutdown, there are some lessons we just wouldn't have learned. For this, I thank you.
Thank you for deepening our friendships.
With almost everything else removed from our schedules, it was clear how important our relationships are. And while we didn't LOVE all the zoom calls, at no other point in history could we have both been sequestered and also had the technology that allowed us to continue to be connected. So thank you for allowing us the opportunity to develop stronger friendships.
Thank you for helping us take back our families.
Without being able to go anywhere else, we had the opportunity to spend more time with our immediate family. Sometimes we wanted to pull our hair out, but mostly, we are grateful that we were able to spend this year (re)connecting.
Thank you for reminding us to have compassion for ourselves and others!
This year, our anxiety individually, and as a whole, has been at an all time high. Thank you for reminding us what is truly important, and remembering to have compassion for ourselves as well as others. Compassion may look like self-care, but it may also look like being a bit kinder, gentler, and more understanding of the humanity both in ourselves, and in others.
Thank you for reminding us of the true superheroes!
I am looking at you, teachers. Health care workers. Essential workers. The many men and women whose day to day contribution is remarkable, yet largely unnoticed. We thank you for your service. We thank you for your dedication. Mere words will never be enough, but know that we thank you from the bottom of our hearts, and see you and your sacrifices.
The challenge (but also blessing) of 2020 is that it stripped away almost everything in our day-to-day lives, forcing us to re-evaluate what is truly vital. So, with the lessons, there are also things to say goodbye to and leave behind.
Goodbye to busyness.
Goodbye to the days where we let ourselves become so burdened by our schedule that we barely had time to use the bathroom. (Or was that just me?) Thank you for letting us see what parts of our schedule really matter, by reminding us that almost everything can be cancelled.
Goodbye to doing things to please other people, and not because I truly wanted to.
It's amazing how much of our time is spent trying to meet the expectations placed on us by other people—either by what we think they expect, or what they actually do. When that's removed, we realize how much we were doing to people please, and not because we truly wanted to. So thank you for reminding us of our hobbies. The things we do because we love them, and not because we HAVE to do them!
Goodbye to empty social interactions.
When you are no longer allowed to give someone a hug or a handshake, it becomes more precious to you. When you don't see the people you used to see on a daily basis, you realize how much they truly added to your life. It's not necessarily the social interaction that was the problem, but the lack of awareness we performed these perfunctory interactions with.
Goodbye to being set in our ways.
As tough as 2020 was, I can't imagine any other way that we could have learned so much about what is important to us, by understanding what isn't. COVID was like taking a magnifying glass to our lives, allowing us to say goodbye to the parts of our lives and our schedules that were no longer serving us, and replacing them with what truly mattered. Friendships. Relationships. Meaningful pursuits.
2020, you weren't my favorite year, but you were certainly the most memorable.
We have grown stronger this year, both individually and collectively. At the start of 2021, we have the opportunity to look forward to the future, uncertain as it may be, and remember the lessons learned and EARNED from the challenges 2020 presented.
2020 wasn't the year any of us expected, but maybe it was the year we needed.
Thank you and goodbye,
~Me
Marina Stanton, a Licensed Marriage and Family Therapy Associate and Owner of Revive Relationship Counseling, is based in Frisco, Texas. If you are looking for more help in your relationships, or with having a more fulfilling sex life, you can read more about how she can help here. She loves helping couples reconnect and increase their intimacy—both in and out of the bedroom!

Melissa Cluff, owner of Cluff Counseling, is a Licensed Marriage and Family Therapist based in North Texas, providing face-to-face and telehealth therapy options to clients in Texas.